So the Tour de France riders race over three weeks with only two days of rest. What would happen if a mere mortal attempted the same frequency schedule of racing? Granted, it won't be at their daily distance as most of us have full-time jobs.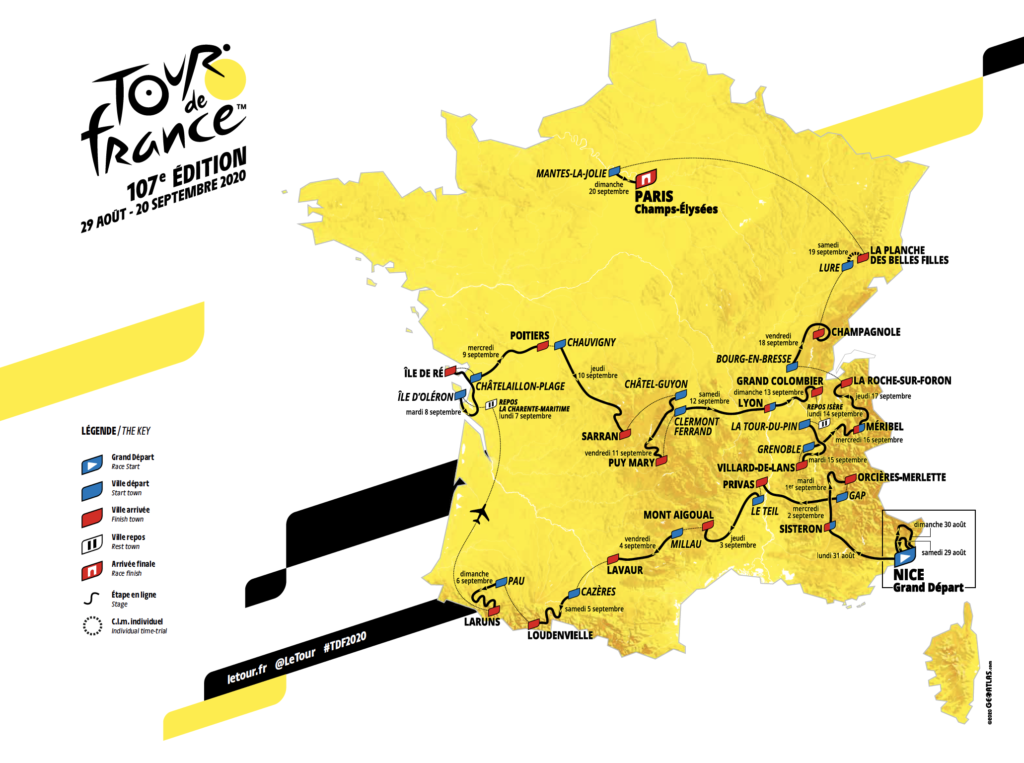 Simple To Attempt
Have you already Everested? Or do you live in the flatlands where that would be crazy, or it simply sounds ridiculous?

Try this cycling challenge experiment as an alternative.
Benefits: It won't jack up your life schedule too much. Most races are under or right at 1 hour on workdays. There is always a race available on Zwift. Heck, you can race at 3:45 am if you want to. You'll probably see a significant FTP jump, you'll set a lot of best power (aka MMP), and your race tactics will improve (at least e-race tactics on Zwift).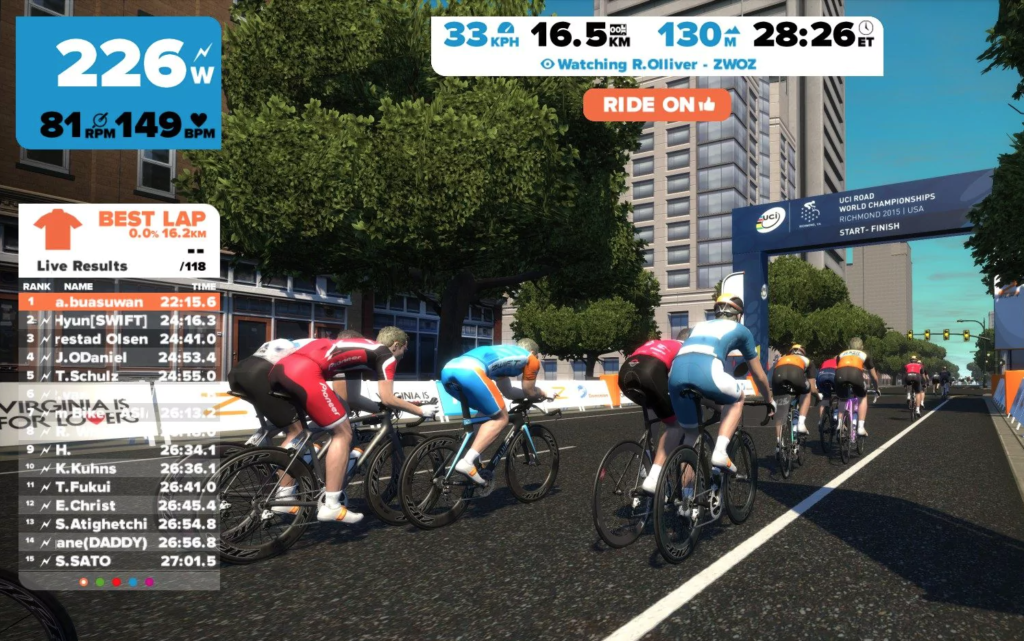 The Rules
Race every day on Zwift for 23 days with only two rest days. (Or another platform).

Exception: One long ride on the weekends with an intense time trial or group ride as part of the long ride. For me, it was 65+ miles with at least 30 of them being the go-hard section). The longest ride was 80 miles

Depending on the day of the week you start, you'll do approximately 18-19 races on Zwift and 2-3 outdoor longer sessions that include a racing aspect.

You can't race only short crits. Use a variety of races. Some have to be of the longer Zwift type (granted you won't find many IRL TDF racing lengths). Zwift Power has a really nice event layout.

Climbing races have to be included.

Race whatever category you are in on Zwift Power or your legit category. You have to go hard on races, with no domestique days. Go for the win or place as high as possible for each race in your category.

At least two days should be a Time Trial type race on virtual TT bike.
There aren't all the crazy restrictions like there are on the Everesting challenge. You aren't going to get a world record for this, but it's really fun.
My Experience with The TDF Schedule Challenge

My Cycling Background
Age: 51 years old

Endurance/cycling background:
Teens track/swimming
20s serious triathlete and endurance coach (track and swimming),
Late 20s-30s dad stuff (intermittent exercise)
At age 41, started riding again.
Like racing Ultras best.
Flo Factory Cycling Team (cuz the wheels, man, the wheels are awesome).
Is it fun? Yes.
This was one of the more fun cycling experiments I've ever tried. Granted, COVID boredom has fully set in.
I didn't make a master racing plan. I just picked a race that looked fun the following day, keeping in line with the "rules."
I took a rest day on day seven and day 15.
Is it hard?
Not in the soul-crushing sense of a double century. Everesting or a 12-hour/24 hour race.
But it's intense. Spicy is an adjective that comes to mind.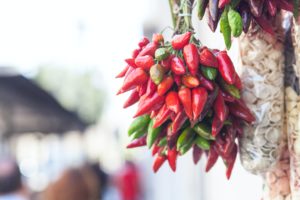 There were days I definitely had to mental psych up to race. This especially happened to me at the end of week 2. Once I got on the trainer and started pedaling, I was usually fine.
I had two or three "bad" days. I'd always heard riders saying this happened. I experienced it. Couldn't get HR up and not great ability when it came to close gaps, etc. Funny thing is I would bounce back the next day and feel good or great.
How Did My Experiment Compare to a Real TDF? The Numbers.
Distance
I ended up racing 746.6 miles (1201.5km).
Compare that to a real Tour de France, which is 2,156 mi (3,470 km).
34.6% of what TDF racer rides.
Elapsed Time
I rode for 28.25 hours.
TDF riders ride ~83 hours.
34% of what TDF racer ridse.
Average Speed
My speed of 26.4 mph (42.48km/h).
Average TDF speed 25.2mph
Note: All my races were way shorter, and even the climbs didn't have 100 miles packed in front. I could ride them fresher than TDF racer and they spend some time sitting in or they'd die.
Physiological/Performance Changes Before and After
All the key numbers jumped up.
My Zwift Ramp Test FTP ↑36 watts.
My modeled FTP in WK05 ↑26 watts.
Modeled absolute VO2Max ↑ .24 L/min
Modeled relative VO2 Max ↑ 1.3 mL/kg/min
Best Power
I set "lifetime" best records during the challenge at almost every minute from 5-90 (minus a wee gap at the 17-20 minute mark where numerous FTP tests have been done). I started using power in 2014 at age 45, so there are 7 years of data in comparison.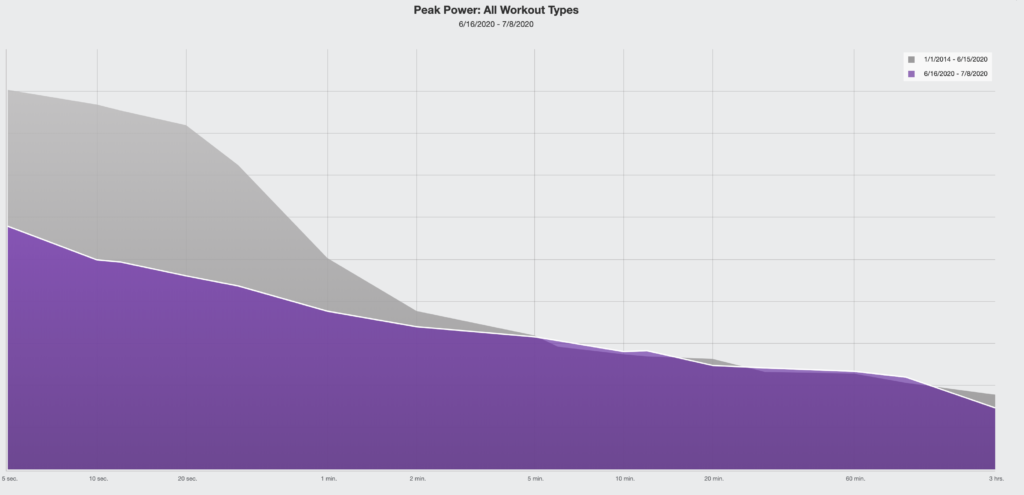 Key Timeframes Power Increases
60 min all-time best ↑4 watts (Road to Sky course)
90 minute all-time best ↑18 watts (Chasing Cancellara Race)
Shift in Zones
What really changed is the % shift of Times-in-Zones. Here is the month before the TDF challenge.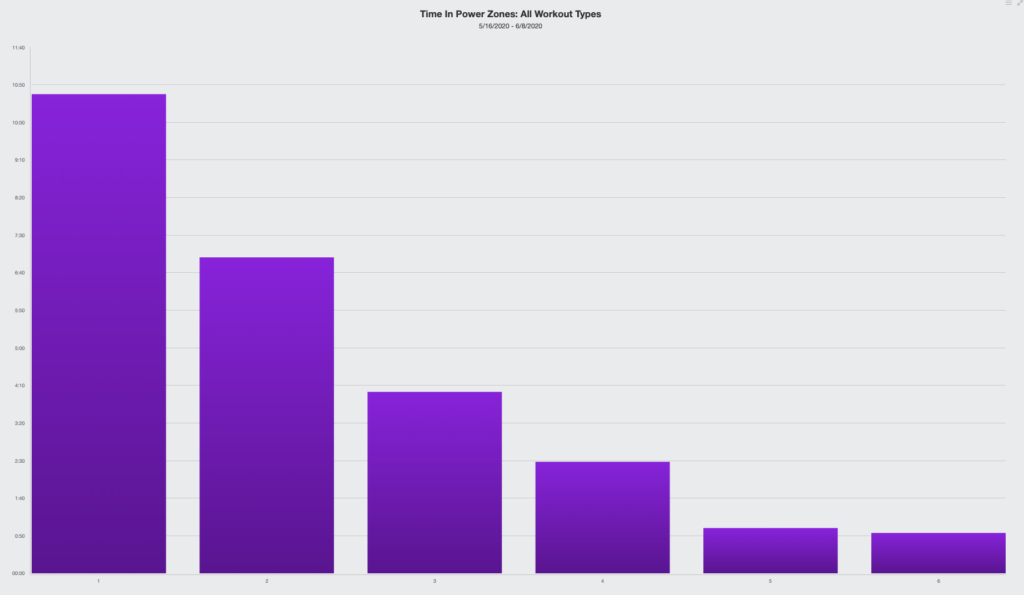 Here is the TDF challenge period.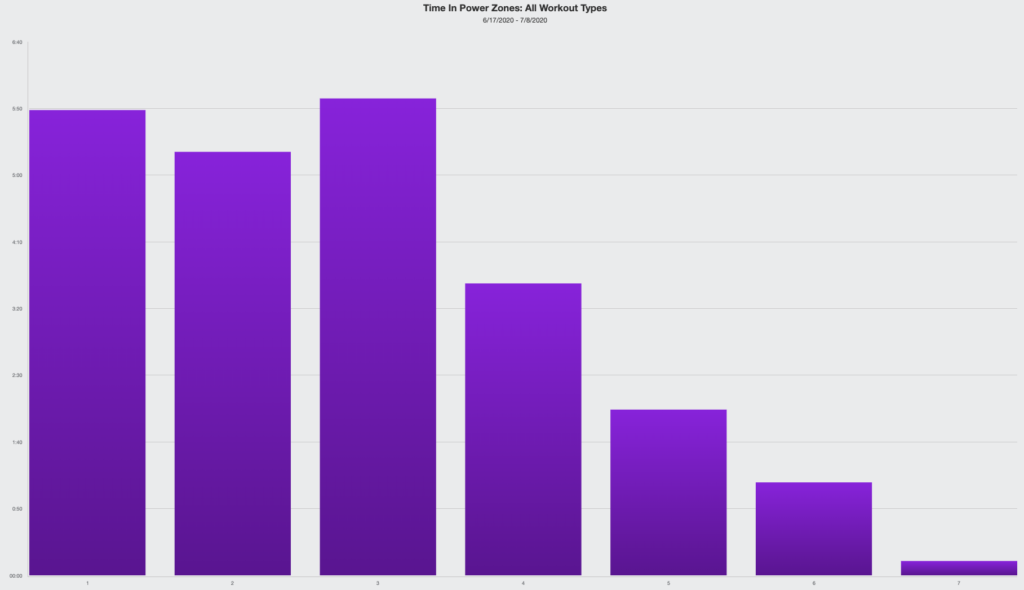 You see a big jump in Tempo (my Z3) Sweet Spot (my Z4) and FTP (my Z5).


More Data
Average EF ↑ .30
Average IF ↑ .12 (usually around .90-95 during races)
Avg. increase in KJ burned in 40 minutes ↑75KJv (Carbs as fuel, for sure).
"Funny" Moments
I entered a race and was slaying it. I mean, I was freaking crushing the field and felt like a 1990-2000s pro, if you catch my drift. All of a sudden, I looked over and saw Yellow dots on Zwift. I accidentally entered a D race instead of a B race…oops. I offered to pull several D's to the finish and then let them outsprint me. I had no takers. So I abandoned and selected a new B race after
When you do a Time Trial and then forget to deselect the TT bike for the next road race with double draft race with climbing, it sucks real bad. I kept thinking, "I know I'm in the draft, why am I not sitting up?" Then I realized, "Oh, crud." I cried a little bit, realizing how hard I was going to have to work. Finished.
The experience of being so sore one day midway the experiment that the thought of anyone touching my quads made me get goosebumps and quiver.
Stuff That Helped Me Get Through the Experiment
DIY Jigsaw Massager except on days when it felt like my legs were bruised.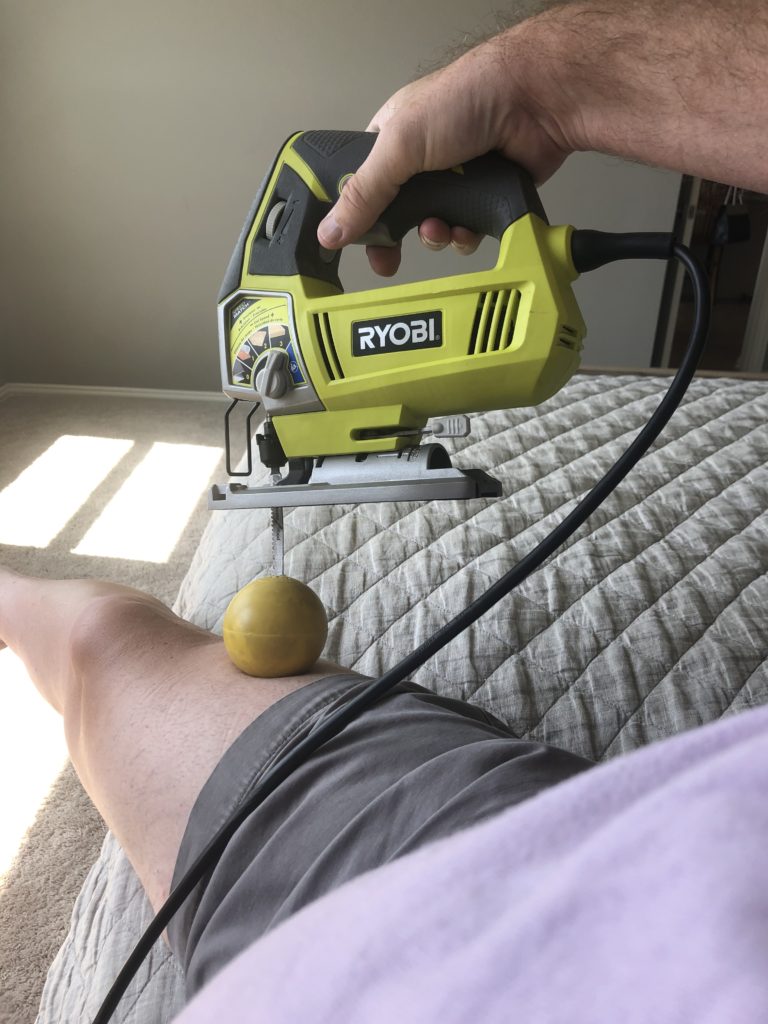 My standard daily supplemental regiment. (None are affiliate links, btw.)
Curranz (Black Currant Extract) (Clinical Studies)
Beta-Alanine (Clinical Studies)
Taurine (Clinical Studies)
High-Grade Fish Oil (Clinical Study)
Hammer CBD Oil at night
Pre-Race
Hammer Gels (particularly Vanilla and Apple Cinnamon)
In Race Hydration
One bottle Gatorade – Good old standard Fruit Punch. I always come back to it.
One bottle Water – tap. Yes, I live on the edge.
If long, Hammer Endurolytes
Surprise Finding

I have AMP Lotion that theoretically allows for skin absorption of baking soda to neutralize muscle lactate build up. Studies have proven bicarbonate loading works orally. Topically, I was skeptical even after having used it before. However, during the experiment, I really noticed a difference on the days I used it in terms of reduced quad/calf fatigue and increased power. Maybe the effect was real; maybe it was psychosomatic.
Usually, I only roll on products with clinically backed studies. I am awaiting those.
Lessons Learned
Mindset
Before this, any stage racing experience I had was a measly three day IRL race. I've done several ultra races, but this was different mentally.
Gearing up daily to be in the right daily mindset for the TDF challenge was probably the most difficult aspect. The apex of the mental fatigue occurred at the end of week two for me. There were a couple of days of dreading the hurt.
But one thing I've learned from Ultras is that your brain wants to quit long before your body is at its limits. I applied that here.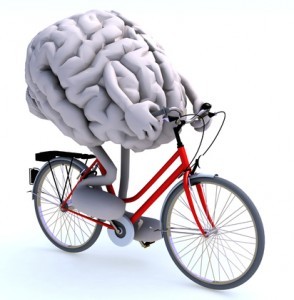 By week three, I was back to being stoked.
The IRL TDF must be a massive mental battle for pro-UCI riders (actually any longer tour). I can only imagine them thinking, "This hurt bad today, and all I can foresee is many more days of hurting." Their mental toughness is astounding.
My Butt and Need for Rocker System
I need to get a rocker plate or movement shifting device for the Wahoo Kickr Core set-up. The lack of side-to-side movement makes your butt hurt much quicker than outdoors, and this gets compounded by day after day riding all out.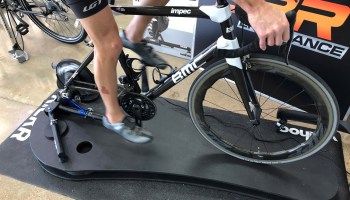 Sweat Protection Improvements
I have my sweat protection system down, including a towel draped over the top tube, a sweat guard above that, and a trash bag over the stem and handlebars. Protect the steed at all costs.
Your Trainer Matters
I recently upgraded from a dumb trainer to a smart trainer – Wahoo Kickr Core. Totally adds an element of realism. Love the Wahoo!
Intense Warm-Up
Normally I do a solid but not incredibly intense warm-up. However, one of my best performances came on the day that I did 8 minutes in the wrong CAT of race and dropped out (see above) and then had a digital failure 3 minutes into a race about 10 min later. I had to wait about 15 minutes to really race in which I slow pedaled.
In contrast, because of running my own business, some days, I was literally sprinting up the stairs hoping Zwift would boot and sync minutes before a race. Those races were never as fun and hurt worse.
I need to most likely up the ante on warm-up intensity block for shorter distances going forward.
It's Repeatable
I will definitely be doing this experiment again, especially if the lack of IRL events continues. Who knows, I might try RGT or another platform that has real Tour longer courses.
The Next Experiment
The next experiment is a fat-burning/base-phase experiment. This will serve as a nice high mileage Z1/Z2 concentration for three to four weeks.
The rocker plate will definitely be needed for this as butt-on-saddle time will jump. Many more of them will be outdoors as long as the Texas summer heat doesn't get ridiculous 100º+.
I'll outline this new experiment rules in a future post.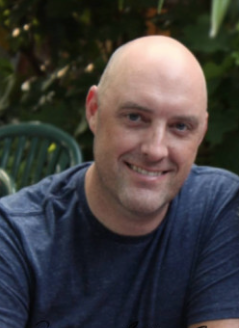 Jordan Fowler has experience as a head swimming coach of the Frisco Swim Team, a TAAF-awarded coach, a track and field distance running consultant for select Texas High School runners, and has competed as a triathlete, road runner, and cyclist. Though he is remarkably slower than he was in his 20s and 30s, he still enjoys endurance sports and sports science studies.